Well, it's been 2 months since the last newsletter. I know, I know… I've been slacking. But I'm about to make up for it with this double sized newsletter. So let's not waste anymore time…
GEARHEAD MOVIE NEWS
GearHead director, Cory Kinney, recently talked with Comics2Film.com about the  project. To read about it, visit http://www.comics2film.com/index.php?a=story&b=29179
EVE VAMPIRE DIVA
Arcana's latest heroine is about to debut in her very own series, as Eve Vampire Diva #1 is set for release this coming December. The series by Frank LaPerch and Ash Jackson, which is about a young woman who has to balance the life of being a popstar diva and vampire warrior, has been causing quite a buzz.  
The October edition of Previews featured the first issue in their Spotlight section. In addition, the creators have made this exciting new trailer for readers which can be viewed here!
http://www.youtube.com/watch?v=TRjA8B4epWE
DARK HORRORS WINNERS ANNOUNCED!
Once again Arcana goes to the most fearsome stories in a tale so eery it could only be called Dark Horrors. The second installment of Arcana's popular Dark Horrors Anthology is set for a Halloween release and the winning creators who submitted work for the book were recently announced. A special congratulations to following, who will grace the pages of Arcana's horror offering:
Gerrin Tramis — The Last Job
Ed Quimby — Time Lost Land; "Heather"
Phil McClorey — Scottish Pride
Jason Whiton –Farewells
Eve Grandt — I Dare You
Bart Thompson — Love Sprouts; Identity
Dan Fleming — Ticking Away
Michelle and Kelly Everaert — Prize Catch; "Mermaid"
Martin Fisher — Any Cost for Life
Miguel Caceres — Dark Side of Theo Wunderlich
Dave Collins — Blood Harvest
Scott O. Brown — Whale Song
Egg Embry — Ghost Train
Robert Tinnell — Reunion
Robert Parizek — Blood Stain
Jonathan Baylis & David Beyer Jr — In the Head, Please
FROZEN WASTELAND COMING
America is covered in snow. No, it's not a weather forcast, but a comic forcast for November as Arcana is set to release Frozen Wasteland, a new graphic novel. Created by Kieran Murphy and Jose Augusto Cano, Frozen Wasteland tells the tale of an America covered in snow. The series is broken up into four stories, each centered on one of the four main characters and all set in locations that it would be hard to imagine covered in snow. Major Jonathon Carson seeks out his lost son in the icy tundra of Las Vegas, Ricky Di Santos finds himself meeting an old flame in the battlefield of a snow covered Los Angeles, Jed Giffin catches up with his self-centered sister in a freezing Dallas and Sinead O Brien takes to the frozen seas off Miami with a friend from her former life. Each story looks at the suffering caused in these very different settings and examines how people cope in an environment where each day is a struggle for survival. However, there is also plenty of action as the marines deal with those who would attempt to profit from this new world in which America finds itself. 100 pages with a $12.95 cover price.
KADE: SHIVA'S SUN #2 IN THIS MONTH'S PREVIEWS
Kade, the gothic demon hunter, has just awoken from a fifty-year coma and is now being guided through India by the beatiful Priya. He's on the hunt for his first Fallen, but what he finds will shock him to his soul! 32 pages from O'Reilly, Niklovitch, and Sejic for $3.95!
KONI WAVES VS. JASON VOORHEES!
On October 27th and 29th, the Koni Waves creative team has been invited to take part in a special Hallween event at the historic Broady Theatre in Pitman, NJ, as Newt Wallen presents Friday the 13th. The classic slasher film will be screened Saturday, October 27th and Monday October 29th. The event will feature pre-movie screenings of classic horror film trailers, trivia, and prizes. In addition, Mark Poulton, Stephen Sistilli, and Dexter Weeks will be on hand to sign copies of their supernatural hit, Koni Waves that makes one wonder what a battle between Jason Voorhees and Hawaii's hottest detective. Well, wonder no more as Dexter Weeks has created a pin-up that brings this hypothetical battle to life. Enjoy!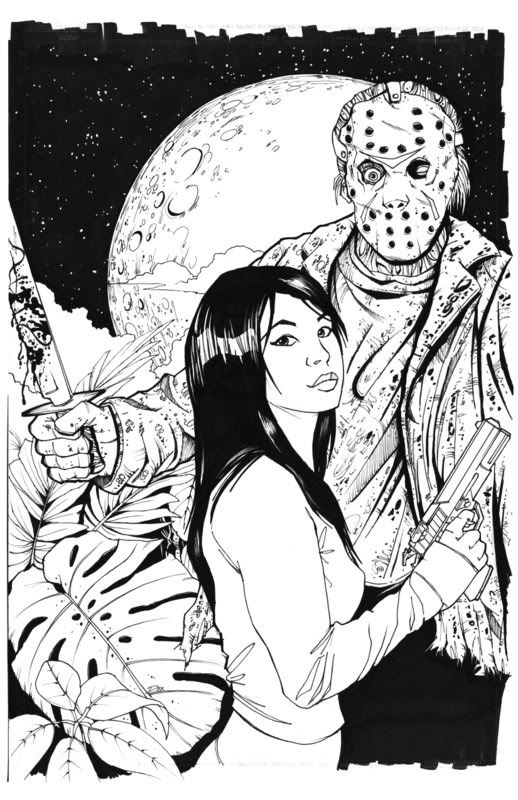 For more information on this event, please visit the Broadway Theatre at http://www.thebroadwaytheatre.org/
ARCANA STUDIO
And on a final note, back in the Summer we announced Arcana was splitting into 2 seperate companies: Arcana Comics and Arcana Studios. As we're all aware, Arcana Comics has continued to release the great comics it's known for like Kade, GearHead, and Koni Waves over the Summer months. But did you know Arcana Studio, the company set up to do work for hire that develops intellectual properties, has been doing work for companies the likes of Disney and Upper Deck?
Well that's all for this month, I'll be back in November with more Arcana news! Happy Halloween!