Tuesday, April 29th, 2008
I decided to get this month's edition out a little early so fans will have plenty of time to make their Free Comic Book Day plans. Speaking of which…
Arcana Unleashes Free Comic Book Day Plans For '08
Free Comic Book Day is this coming Saturday, May 3rd and Arcana is getting in on the action. It is the day when participating comic book shops across North America and around the world give away comic books absolutely free to anyone who comes into their store. For their part, Arcana Studio is set to release Arcana Studio Presents.
Arcana Studio presents Kade, Wendigo, Burn and 100 Girls — four of Arcana's iconic series — in one issue of all-new stories published just for Free Comic Book Day 2008! Kade, the enigmatic warrior who doesn't feel, but always hurts! Wendigo, the little critter lost in the Canadian North! Burn, a prisoner in his own body! Sylvia, one of 100 Girls genetically created for the U.S. government! Arcana Studio Presents features four all-new stories of action, adventure and intrigue in the way that only Arcana can!
To coincide with Free Comic Book Day, Arcana will have several of their creators making special appearances at comic shops across the country. Among those scheduled to sign:
- Clockwork Girl and Kade creator: Sean O'Reilly will be at Golden Apple Comics in Los Angeles, CA from 12pm to 2pm promoting Kade: Shiva's Sun, as well as the new Wendigo series from Arcana Kids!
- Dead Men Tell No Tales creator: Dwight MacPherson will be at Mountain Empire Comics in Johnson City, TN from 10am to 4pm promoting the upcoming Dead Men Tell No Tales tpb and Dead Men Decimation graphic novel.
- Gearhead creators: Dennis Hopeless and Kevin Mellon will be at Elite Comics in Overland Park, KS promoting the new Gearhead tpb collecting the smash hit original series that is currently optioned by Darius Films for motion picture development!
- Koni Waves creators: Mark Poulton, Stephen Sistilli, and Dexter Weeks will be at Stormwatch Comics in Berlin, NJ from 12pm to 4pm promoting the upcoming Koni Waves: Ghouls Gone Wild! graphic novel and the battle of the century Avengelyne vs. Koni Waves!
Aaron Nelson Talks Marlow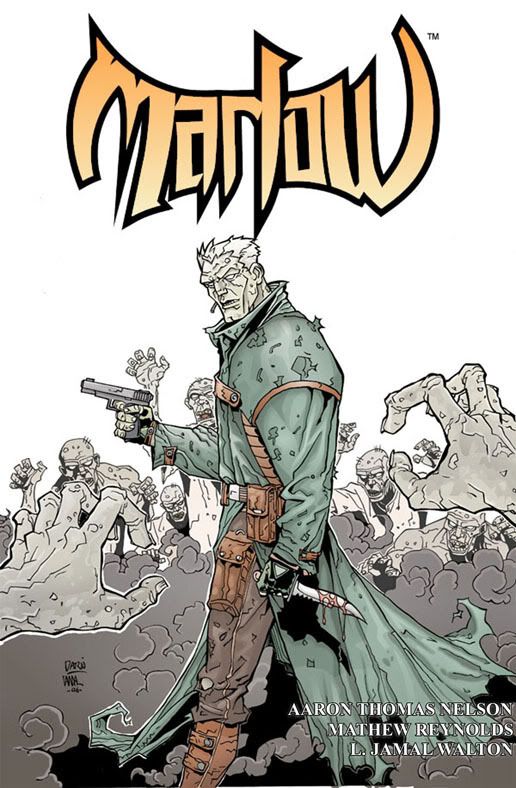 This month I got the chance to interview Aaron Nelson, who Arcana fans may remember from the Dark Horrors anthology. Well, Aaron has another ghoulish tale to tell in the form of Marlow. However, this zombie isn't your average chud. I spoke with Aaron to get the lowdown.
MP: What can you tell us about Marlow?
AN: Thanks for asking. I suppose from a pretty high level, the story is about a man mutilated by technology who, upon meeting the Doctor who made him, discovers things about his mutilation (and his maker) that brings him to question the decisions he's made in his life. In exchange for medicines that keep him from reverting to a zombie state, Marlow does all the dirty work for the pharmaceutical company that mutilated him out of fear of complete transformation. During this journey, where he meets the Doctor who made him, Marlow wonders if he must simply suffer the consequences of his mutilation and revert to a zombie state in order to truly be free.
MP: Who worked on the book with you?
AN: Dario Carrasco Jr and I have collaborated on a number of other projects, and worked closely together on the characters and story. Mathew Reynolds did some really incredible artwork, and L. Jamal Walton was, as always, brilliant with the layouts and lettering.
MP: Arcana fans may remember you from your work on the Dark Horrors anthology. Now, you are working on a book about a zombie with Marlow. Is horror a favorite genre of yours?
AN: I think the operative word there is _may_. (Laughs) I don't know if I'd say horror is my favorite genre, but I've certainly found it to be a genre that readily presents moral, philosophical, and theological issues to the reader. When I began working on Marlow, I wanted to comment not only on issues like globalization, and human experimentation, but also on more engrossing issues like The War on Terror. So, while I was writing Marlow, I was also reading Joseph Conrad's "The Heart of Darkness" very closely, because I found his concerns about 19th century colonization and exploitation of Africa to be, at the very least, "in line" with the concerns we have about globalization and The War on Terror. Conrad's big idea (at least from my reading of it) is that perhaps it's not the dark, undressed people of Africa who are the brutes, but rather the white, well-heeled Europeans. Now, don't get me wrong, I've always found the Bush Doctrine counter-claim that "America's the terrorist" to be pretty simplistic and, well, wrong. However, I do think there's something deeper to be said about us using violence to end violence. Perhaps by fighting al-Qaeda, we've, in a sense, "validated" their jihad to them. Perhaps by just glancing at them, we've given them a stature they truly don't deserve.
It's funny, but, while I was writing Marlow, I was also writing an essay called "Simulating Terror" for an anthology called "Jack Bauer for President: Terrorism and Politics in 24″ (now in bookstores!). It occurred to me that the Bush Doctrine and al-Qaeda agree on one thing: that al-Qaeda can, somehow, destroy America. Osama thinks he can destroy us, and so does Bush. Which is why we've taken such a massive action against them. For the Bush Administration, we're fighting not just for our lives, but for our very way of life. I think that's a questionable assumption to make.
So, in any case, instead of writing a story that says something bold and simplistic like, "We're the terrorists", I decided to write a story that questions whether or not suffering is a part of freedom, and whether or not avoiding suffering can, actually, lead to a life of enslavement.
So, yeah, I like horror. (Laughs)
MP: Is Marlow your typical zombie, ie. Does he eat brains, crave human flesh, hang out at shopping malls?
AN: He's more of a meso-zombie. He's on that razor thin line of being human and being a zombie, since he takes medication to prevent him from reverting to a zombie state. His "inner-zombie" is always ready to surface, and he struggles to keep it in check. As for his after-hours inclinations, he's more inclined to hang out at a dive bar instead of the mall's T.G.I. Friday's.
MP: Do you have any plans for Marlow after the graphic novel?
AN: I'm pretty focused on the graphic novel right now. However, if McDonalds wants to create a zombie Happy Meal, that's cool with me.
MP: Any last words for fans?
AN: Yeah. Marlow really isn't for everyone. It's brooding.. dark.. you know.. it's a horror comic. But, if you're interested in globalization, the War on Terror, philosophy, post-modernism, that sort of thing, definitely check it out. I hope you enjoy it.
Step Behind the Velvet Rope With Arcana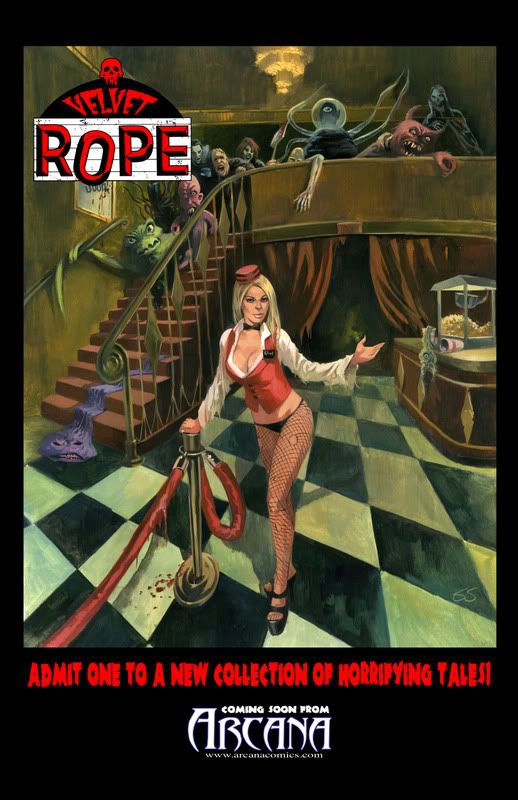 Arcana Comics announces it's new horror anthology, Velvet Rope, is now accepting short story submissions. Velvet Rope will be a 64 page, full color, horror anthology scheduled for a Halloween release. Stories will be between 5 to 10 pages long and hosted by the beautiful usher from beyond the grave, Velvet.
Submissions should be in full color and have a horror theme to them. Those interested in submitting stories for consideration should send 3 completed pages (meaning full pencils, inks, colors, and lettered), as well as a story synopsis and expected length of story to Mark Poulton at markepoulton@aol.com. Those whose work Arcana would like to see more of, will be contacted with further instructions.
Wizard World Philadelphia
Wizard World Philadelphia is May 30th to June 1st at the Philadelphia Convention Center. Arcana creators Frank LaPerch and Ash Jackson from Eve: Vampire Diva will be in artist alley, as will the Koni Waves creators: Mark Poulton, Stephen Sistilli, and Dexter Weeks who will be joined by the artist if the upcoming Koni Confidential oneshot Mathew Tow.
For more information on Wizard World Philadelphia, please visit www.wizardworld.com
In This Months Previews
Books in this month's Previews have an expected release date of July.
Burn #3 (of 6) Burn, a boy fused with a mecha, continues his struggle to find understanding in the madness that is his world. Could the answer come in the innocence of a young orphan girl? And enter the Bikers… Diamond code: MAY08 3594 $2.99
Helen Killer #4 (of 4) Diamond code: MAY08 3595 $2.99
Tales of Penance: Trial of the Century #1 (of 4) Lt. LJ McCloud is assigned to a powder keg case when she has to investigate the homicide of a costumed criminal perpetrated by a masked superhero named Penance. As she begins the investigation, the media circus surrounding the case could leave the city of Atlanta and the entire south hanging in the balance, especially when a mob of vigilantes come seeking vengeance at the police station. Featuring a stunning cover by Greg Horn! Diamond code: MAY08 3596 $3.95
Wingman #1 (of 3) Diamond code: MAY08 3597 $3.95