Monday, March 17th, 2008
Interview With Arcana's #1 Fan – Jimmy DaSilva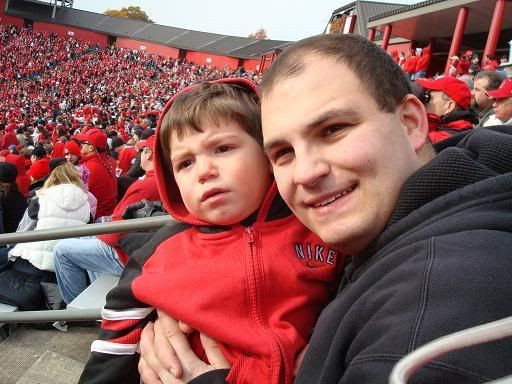 This month I decided to change things up a bit and instead of interviewing an Arcana creator, I decided to interview an Arcana fan. However, this is no ordinary fan. This is Arcana's #1 fan. People on the forum will recognize him as Clasp99, but now they will get a chance to know Jimmy DaSilva.
MP: With so many choices to choose from and the market dominance of Marvel and DC, how did Arcana Comics become your favorite comic book company?
JD: Arcana became by favorite comic company because of all the great titles it has been producing. I have been collecting Arcana comics pretty much right from beginning. I got into Arcana comics in kind of weird way. A couple years back I was heading out to Pittsburgh for a week on a business trip and wanted to bring some reading material to keep me occupied. I decided to stop by a local comic shop that had just opened in the mall near me, New Moon Comics. I hadn't collected comics in about 10 years because of a bad experience I had as a teenager with my local comic shop. I picked up a couple titles to see what was going on in comics today. I remember picking up Ultimate X-men, Batman, Superman, Spawn, and a comic called ANT issue #1. It just leapt off of the shelves when I was checking out the independent titles. I really enjoyed all the comics I picked up but of all the titles ANT was by far my favorite. The next time I stopped in to New Moon I went immediately to the indy shelves. There were a couple more titles that looked interesting and happened to also be from Arcana, Kade and Ezra. From that point I was pretty much hooked. After reading Kade and Ezra I remember going to the Arcana Website and seeing if there were any other titles that were out that I my comic shop didn't have or if there were any other issues I could get. I ordered 1 of everything that was available for purchase.
MP: What was your first Arcana book?
JD: Like I said the very first Arcana book I bought was ANT #1 but Kade and Ezra were very close behind.
MP: What are some of your favorite Arcana titles?
JD: It is hard to narrow it down. I can honestly say that there hasn't been a title that I haven't enjoyed. Each one has its own good points. At the top of my list are Koni Waves, Kade, Eve, Ezra, 100 Girls, and Shadowflame.
MP: At last year's NYCC, Sean O'Reilly commented about your collection of rare Arcana comics, specifically your original Kade without the Arcana logo. What other rare Arcana comics do you own?
JD: I have a version of Kade #1a that was only available through the Arcana website. The cover has an error in which Kade was accidentally drawn without his trademark tattoo. I also have blank sketch covers for 100 Girls #1, Ant #1, and American Wasteland #1.
A couple copies of the Koni Waves/Demonslayer #1 retailer cover with a head sketch by Mark Poulton. I don't know if you would consider this rare or unique but I have a test copy of the yet unprinted El Arsenal: Teibolera story. A JGM Variant to Shadowflame #1 limited to only 50 copies. Some CGC'd copies of Ant, Ezra, Sundown: Arizona and Kade. But the jewel of my Arcana collection is my copy of the Koni Waves/Demonslayer #1 Museum Edition one of only 25 copies (Possibly even less).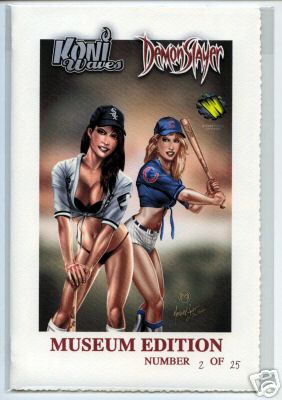 I have almost a complete collection of everything that has been released from Arcana. I am only missing a couple variant covers to Ezra, Kade, Ant, and Gearhead. What I would really love to add to my collection is copies of the props of the Green Spirit Arcana did for the episode of Psyche on the USA Network they helped out with. If anyone has or knows where I can get a copy feel free to PM me the info (clasp99 on the forums)
MP: You also collect original artwork. What are some Arcana pieces you own?
JD: My first original art from Arcana was the retailer cover to the Koni Waves/Demonslayer #1 by Mark Poulton which I pick up at NYCC 2007. Since then I have picked up a couple other nice pieces. Here is a list of everything I have:
The cover art to American Wasteland #2 by Mark Kidwell
A page from Ant issue #2 by Mario Gully
2 pages from Gearhead #2 Kevin Mellon
The Wizard World Chicago Variant cover art to the Koni Waves/Demonslayer #1 by Marat Mychaels
The Retailer Variant cover art to the Koni Waves/Demonslayer #1 by Mark Poulton
2 pages from Shadowflame #1 by Joe Martino
2 pages from Shadowflame #2 by Joe Martino
I also have some commissions that were done for me. Marat Mychaels did a nice piece of Battlestone from Brigade and Koni hanging out at a bar in Hawaii. Ash Jackson did an awesome page of Eve, Koni, and Jinky in action together.
And some sketches that were done in my sketchbook by joe Martino, Mark Poulton, Dexter Weeks, Peter Palmiotti, and Steve Sistilli and Sketch on my Captain America: Fallen Son Blank cover by Mark Poulton, Dexter Week, and Steve Sistilli. Dexter Weeks did a sick sketch of Koni, Red Skull and Captain America for me.
MP: Your Banzai Girl, Eve, Koni commission inspired the creators of Eve and Koni to team-up and plan an upcoming oneshot where both of their characters origins will be linked. How does that make you feel to know you inspired a comic book like that? Also, what other Arcana dream team-ups would you like to see?
JD: I was really excited to hear that Mark and Frank liked the idea of Eve and Koni teaming up. These are two of my favorite characters and it seemed to me like a team up would be so natural. It is going to be cool to see Koni working with a vampire in stead of against one. If it wasn't obvious by my commission, I would love to see Jinky, Koni, and Eve team up. But I would also like to see Kade and Eve meet, I wonder what would happen if those two crossed paths, Sylvia meet the heroes from Philly, or Koni meet Ezra.
MP: Do you plan on attending any of the upcoming con appearances by Arcana or their creators?
JD: With work and my ever growing family it has been hard to make it to many if any con's but I always try to make it to at least NYCC. I am really looking forward to it this year since so many of the people from Arcana are going to be there.
MP: What would you like to see in the future from Arcana Comics/Studio?
JD: I have really been enjoying Clockwork Girl from the all ages line. I would like to see more titles in this line that I could read to my kids. It would really great to see Koni, Kade, Eve, etc in an all ages format. I know there has been talk across the internet about it but I would really like to see some of the Arcana titles be made into movies or TV series. As soon as I heard Gearhead was optioned I thought, what a great choice for a movie, Dennis Hopeless's story was great and would translate easily to the big screen. But any of the titles could easily be made in to a cartoon series. The one thing I would REALLY like to see is the return of Ezra. I hope she isn't dead forever. I will continue to spread the good word of Arcana and I wish everyone the best of luck.
New York Comic Con
 The east coast's biggest comic con is just a month away and Arcana Comics will be there in full effect. Arcana Comics is teaming up with Platinum Studio this year at booth #1757. Creators scheduled to appear are Kade's Sean O'Reilly, Mark Poulton, Stephen Sistilli, and Dexter Weeks from Koni Waves, Marvel Comics' Cable and Making Waves 2: The Art of Koni Waves cover artist Mike Capprotti, Eve: Vampire Diva's Frank LaPerch, and many more. The convention runs from April 18th through the 20th. Please visit the cons' official website for more details:
New York Comic Con Exclusive – Avengelyne vs. Koni Waves Boxing Poster
Let' s get ready to rumble! Designed to look like a vintage boxing poster this piece of art showcases two lovely ladies battling it out for the Indie Comic Queen Crown. Measuring 11″ x 17″ and limited to 500 copies, this is a must have for any fan of Avengelyne or Koni Waves. Available at the Arcana/Platinum Studio Booth (1757) for $5.
Paperback Reader Reviews Eve: Vampire Diva #4
Paperback Reader, the comic book review website, has just written a glowing review for the final issue of Eve: Vampire Diva. Head over to their website and sink your teeth into it:
http://www.paperbackreader.com/review.php?ReviewID=2168
Learn From the Pros
Learn how to create comics from the pros with the Rough Sketch Studio comic courses. Koni Waves artists, Stephen Sistilli and Dexter Weeks, are offering two separate non credited courses with one on one instruction in a real studio environment. The first course is 8 five hour sessions with drawing, inking, page layout, and storytelling. The second course is an additional 8 five hour sessions dealing with coloring, lettering, and portfolio presentation. Each course costs $250 and all students will receive one 24 sheet comic drawing boards, a set of inking pens, and a comic art portfolio. Stephen and Dexter have over 35 years of combined experience in illustration, graphic arts, and computer work. For more information please call (856) 317-1771 or email at roughsketch@comcast.net. Start being a comic book pro today!
In This Month's Previews
The Clockwork Girl TPB by Sean O'Reilly, Kevin Hanna, & Grant Bond – Experiencing life and love for the first time Huxley and Tesla have formed a unique and inseparable bond. But preventing their happiness, and their love, the two mad scientists wage a vicious war against each other where the Clockwork Girl and the Mutant Boy are bystanders caught in the middle! HC, 110 pgs, FC $14.95
Burn #1 by Camilla d'Errico & Scott Sanders – Welcome to a world where humans and mecha co-exist. What was once thought to be a symbiotic relationship between humans and machines has turned into a full-scale war due to rising resentment by their human creators. In one of the towns, a 13-year-old boy named Burn will find out the true meaning of horror. The arrival of the sentient Shoftiel, a machine programmed to destroy mankind, will forever link the two in a battle of fates. One action, one desperate act of self-preservation will forever change the fate of man and machine. 24 pgs, B&W (1 of 6) $.99
Helen Killer #2 by Andrew Kreisberg & Matthew JLD Rice - Secret Service agent Helen Keller, with the aid of a device which has restored her lost senses, and her partner Jonah Blaylock have traveled to the Pan-American Exposition in Buffalo to protect President McKinley from Anarchists. As Helen learns to master her new powers, the assassin is moving into position. 28 pgs, FC (2 of 4) $2.99