Saturday, November 10th, 2007
Can you believe it's already November. Soon enough, we'll be decorating for Christmas. But in the meantime, here's some Arcana Comics news we can give thanks for…
Interview: Frank LaPerch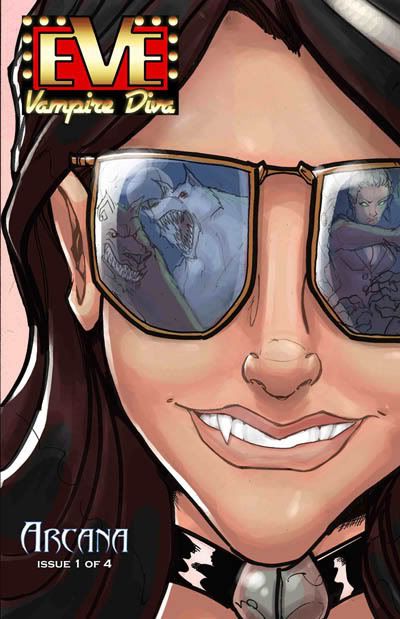 Here's an Arcana Newsletter Exclusive! I recently had the opportunity to ask Eve: Vampire Diva writer/creator, Frank LaPerch, some questions regarding his hot new mini-series.
MP: Tell us a little about Eve Vampire Diva. What's it about?
FL: Eve's secretly a vampire warrior, but the world knows her as an aging pop star diva.
At night she battles werewolves, vampires and witches and during the day she faces an even scarier lot . . . Hollywood.
As if balancing these two worlds wasn't difficult enough, her agent, Herbie, signs Eve up for a 24/7 reality show.
The music industry and the supernatural world will collide and Eve is caught in the middle. But it's just another day in the life for Eve: Vampire Diva.
During the first arc we will catch a glimpse of The Council, the governing body that keeps tabs on the supernatural world. We'll also meet Eve's trusted friend and wizard, Girdron. Complicating matters will be Eve's sordid past with The Council and the possible re-emergence of someone from her past.
MP: How did you come up with the idea behind the story?
FL: It really grew organically from a couple of premises. The first was when my wife, Patti, said I should create a female hero after having a bunch of concepts centering on male protagonists.
I had the look of Eve in my head and knew she was going to be a vampire – but we had plenty of those running around movies and comics, so I just kept thinking about what would make her different.
The rest of the credit goes to the creeping infection of tabloid TV into our public consciousness! I kept thinking of all the reports or accusations that certain celebrities have undergone countless plastic surgeries to keep their youthful appearance.
Then I thought, hmmmmm – what if they were telling the truth when they denied the plastic surgery? What if they weren't plastic surgery junkies with a superficial obsession with beauty and it was little more simplistic . . .you know, like just being a member of the undead!
From there I just wanted to complicate Eve's life a bit and came up with her opportunistic agent having cameras follow Eve around for a reality show to make her life a bit more difficult. As if fighting evil vampires, witches and werewolves wasn't keeping her busy enough!
MP: You released a series of video trailers for the comic, how has the reaction been to them?
FL: It's been great! They certainly have received a lot of hits in the last month since they've gone up and I've only heard good things about them. The first one was done in Flash by Grant Cerulo and I was blown away when I first saw it.
The rest came after the darkness that was my PC crash. We bought an IMAC to finish up the comic book files and discovered a neat little program called I-Movie and we cranked out a few more. The PC crash was a blessing in disguise in a way.
MP: Do you see the story continuing beyond the first series?
FL: Certainly! In fact, the first review at Paperbackreader.com by Moya Dawson commented on Eve easily having enough adventures to be an ongoing. Hopefully fan support for the book will allow us to do more stories with our vampire diva!
I can tell you that we already have an origin issue written and a few more stories with some new characters planned out. As soon as Ash finishes coloring issue 4 we'll be focusing our efforts on the origin issue, so fans can definitely have more Eve in their future.
MP: Are there any real-life female popstars you suspect of being a vampire?
FL: Hmmm, well Cher aged well for quite some time, but we haven't seen her lately . . . maybe she's off fighting hordes of supernatural nasties? Maybe an Eve and Cher team-up would be interesting?
As for the current crop of pop-stars, we'll just have to wait and see how well they age. So I guess if comic fans are pouring over pictures of Britney or Christina Aguilera we'll know it's for no other reason than to keep the world safer
MP: Is there anything else you would like to share with the Arcana fans?
FL: Just that I'm excited that the book is coming out and I think people will really like it. I also believe that Ash Jackson, who handled all of the art duties, is going to really turn some heads with his work. It's stylized look is a perfect fit for this story.
If you like action/adventure/humor with a bit of the supernatural, check us out!
For updates on Eve you can check here at Arcana and our website:
http://www.vampirediva.blogspot.com/
Thanks!
In Stores Now: Kade Shiva's Sun #0
Everyone's favorite Gothic Demon Hunter is back in this new series kicking off with a 25 cent preview issue featuring a cover by Greg Horn! Written by Sean O'Reilly and Alex Nikolavitch with art by Clint Hilinksi and Andrew Dalhouse this short story paves the way for the Shiva's Sun series. As an added bonus, the issue features Kade through the ages and a first look at the Kade: Sun of Perdition hardcover!
In This Month's Previews
Kade: Sun of Perdition HC
During the Black Sun, under the Eye of God, angels may fall to Earth. These Fallen Angels have left the grace of God and act without consequence. Many try to spite their Creator by possessing the anemic spirits of those who are morally corrupt, using them as their demonic servants. As a Child of the Black Sun, Kade is the ageless balance that tips the dark scale back towards the light, as he hunts the demons and The Fallen.
Mature Themes, HC 7×10, 120 pgs, FC $19.95
Diamond Code: NOV07 3308
Eve: Vampire Diva #2

Eve and Girdron have to battle a witch's coven at The Tourniquet club. Eve will have no rest as she's thrust into a party at her apartment for her reality show . . . and Devon shows up on this lovely full moon of a night.
32 pgs, FC (2 of 4) $3.95
Diamond Code: NOV07 3309
Clockwork Girl #3

Experiencing life and love for the first time, an inseparable bond is formed as the awkward couple explore the wonders of the ordinary world. Triumph and tribulations are everywhere for the naïve duo as they try to understand their existence and their place in the world.
32 pgs, FC (3 of 4)
Diamond Code: NOV07 3310