Friday, August 3rd, 2007
Wizard World Chicago
The comic world descends upon the Windy City next week and Arcana is set to take Artist Alley by storm! A scaled down Arcana will be present in Artist Alley (table #3206). Mark Poulton and Stephen Sistilli from Koni Waves will be on hand and bringing the hottest exclusives with them. First up is the "Windy City Showdown" variant to Koni Waves/Demonslayer. This gorgeous cover is drawn by Demonslayer creator Marat Mychaels and digitally painted by Matthew Swift. The cover is extremely limited with only 50 copies printed. Make sure you get yours quick! Also available will be a new Koni Waves print entitled "Welcome To Hukos." This print was done up to look like one of the placemats at Koni's favorite watering hole, Huko's Volcano Room. The placemat features different drinks that tell a story of the upcoming Koni Waves: Ghouls Gone Wild! graphic novel.
Clockwork Girl Now On Sale
Arcana's most anticipated series of the year is finally here! Clockwork Girl #0 hit comic shops yesterday. In this 25 cent issue, the Tinkerer is a mad scientist convinced that mechanical technology is a stable and precise science and is more important than all of the other sciences. Metal twists and bends, gears, axles and ratchets work in unison giving life to a conscious machine… the Astonishing Clockwork Girl. 
Comic Monsters Interview
American Wasteland is back! To kick things off series writer, RD Hall, and new artist, Andrew Mangum, sit down to chat with Comic Monsters. Read the interview here:
http://www.comicmonsters.com/modules.php?name=Content&pa=showpage&pid=859
Koni Waves Joins The NBA
Later this year, Hawaii's hottest detective will conquer the heavy metal world when she teams up with Immortal Records' ADEMA. However, before then Koni is going to lace up her sneakers and team-up with the NBA. This November, the Philadelphia 76ers are having Comic Book and Gaming Night and joining them to celebrate will be Koni creators Mark Poulton, Stephen Sistilli, and Dexter Weeks. Free to all fans in attendance will be a print featuring Koni Waves with the Sixers two brightest stars, Andre Iguodala and Kyle Korver!
Yin Yang Backs Up American Wasteland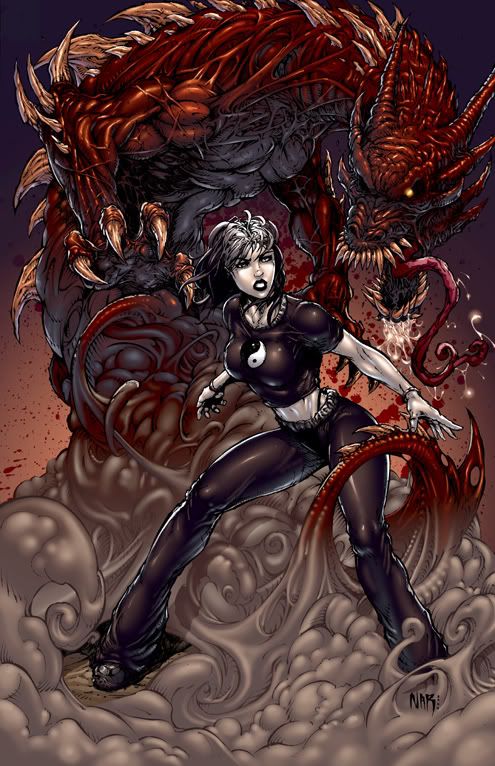 If you ever thought American Wasteland's vampire slaying trucker, Cletus McCoy, could use some back-up, have no fear. Issue #2 features a back-up story from the upcoming Arcana graphic novel, Yin Yang. Yin Yang tells the tale of a twin brother/sister bounty hunter team who go after mutants with powers that keep them out of reach to normal law enforcement groups.
In This Month's Previews
The following items are in this month's Previews scheduled to ship in October: 
Kade: Shiva's Sun #1 – Kade has been trying to come to grips with the death of Ezra …slightly refocused he sets out to redeem the mistake he made fifty years ago by setting out after the Seven Fallen. The hunt of the first demon has had him walk across Asia into India during their Golden Age. The sites, culture and language is completely foreign to him, but he is all too familiar with the evil he's chasing.
32 pgs, FC (1 of 4)
Dark Horrors Anthology Volume 2 – The most horrific stories ever assembled come together under an anthology like only Arcana could put together. This monster read will show you…remind you…why you are scared of the dark! Arcana has scheduled the sequel to its fan-favorite independent anthology to happen just in time with Halloween, and will be in stores for a spooktacular treat!
SC, 120 pgs, B&W
Well, that's it for this month's edition. I'll see you again in September!