Thursday, June 7th, 2007
Summer is upon us and that can mean only one thing… Summer Con Season! So let's start this party off with some con news!
Wizard World Philadelphia
Wizard World comes to Philadelphia June 15th through the 17th. The Koni Waves team will be on hand in Artist Alley representing Arcana. Stop by and pick up advance copies of the Koni Waves: First Wave TPB and the Koni Waves/Demonslayer crossover before they hit stores. In addition, they will have an exclusive Rocky themed Koni print made just for the con.
Marat Mychaels (Koni Waves/Demonslayer, Philly – cover artist) will also be on hand, signing books and taking commissions at the Jay Company dealer both!
The con is held at the Pennsylvania Convention Center. Check www.wizardworld.com for con hours and programming.
 June is Koni Waves month!
Speaking of the Koni Waves crew, Koni has a busy month planned. June sees the release of her very first tradepaperback collecting the 3 issues of the original series, as well as the NYCC Exclusive "The Headdress of the Undead" story. This is a perfect opportunity for new readers to jump on the series. The original series was nominated for Best Black and White American Comic Book Series and Best New Series in the Eagle Awards. The tpb also features brand new artwork from series artist, Stephen Sistilli, and pages from the long out of print Koni Waves ashcan from 2001!
But folks that's not all! In addition, Koni's first full-color adventure is set for release this month too. Koni Waves/Demonslayer finds Koni teaming up with Marat Mychaels' Avatar Press bad girl, Jaclyn Hayes. This epic event ties into current Koni continuity and is sure not to be missed. Marat depicts 2 of the hottest women in all of comics for this issues cover and throw Mychaels' newest creation, Genesis, into the mix and the babe factor goes off the charts!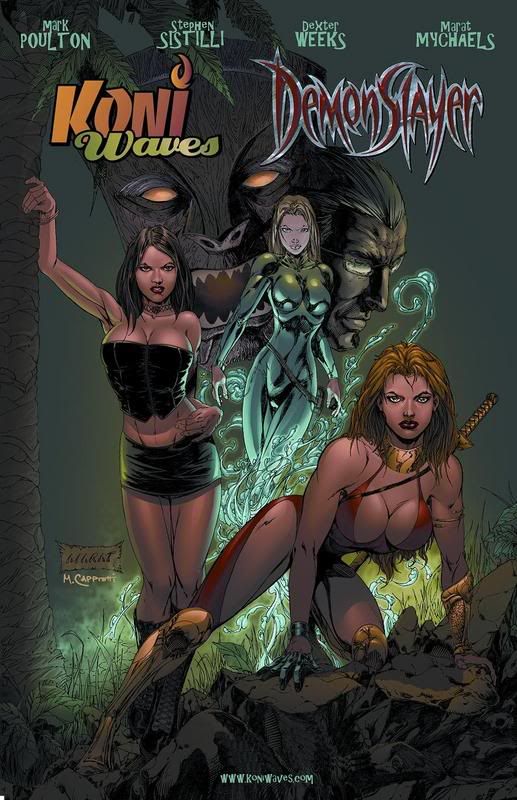 Comics for a Quarter!
That's right folks. Arcana plans to release 2 hot new series this Summer and they are going to kick things off in a big way by offering their initial issues for 25 cents! That's right… comics for a quarter! Things begin in July with Clockwork Girl #0 from the team of Kevin Hanna, Sean O'Reilly, and Grant Bond.
Then in August it's Kade: Shiva's Sun #0; the all-new adventure of Arcana's most popular character. It's been nearly 50 years since the death of Ezra. Kade is alone and is losing meaning in his life. Unable to sleep, the gothic demon hunter pushes forward walking to new lands and towards a new adventure. The tale is brought to you by the sensational team of Sean O'Reilly and Stjepan Sejic with a cover by comics superstar, Greg Horn!
A Closer Look… Gearhead
Gearhead tells the tale of Shelby Cooper, who is on a mission to find her brother and the destiny she never knew she had.  Her journey takes her on a 4-issue road trip that leads from the drag strip all the way to the White House. Like her father before her, she is GearHead.
With 2 issues already behind her, the second half of Shelby's adventure continues this Summer. Here's what writer Dennis Hopeless and artist Kevin Mellon have in store:
Gearhead #3 – Tied up, beaten and covered in goo, Shelby's having a rough night. And then… nearly naked bureaucrats ATTACK.
Gearhead #4 – GearHead and Oil Slick lay waste to Midtown. Somebody made them angry. You're gonna LOVE them when they're angry.
Things definitely look like they will be heating up for Shelby this Summer. As Kevin Mellon would say, "Word to your wrench." And on that note, I'm outtahere! See you next month.