Monday, April 9th, 2007
Well, the Emerald City Comic Con has come and gone and it looks like it was a complete success for Arcana. Sean O'Reilly and Todd Demong manned the booth and gave out thousands of free comic books. Fans were walking away with full runs of Kade: Sun of Perdition, Shadowflame, and Power of Valkryie just to name a few. Now, that's what I call a good deal! Arcana definitely spread the word to fans at this year's con.
CALGARY COMIC EXPOÂ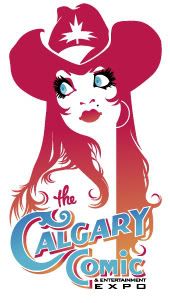 The next stop on Arcana's con tour will be the Calgary Comic Expo. Held April 29th at the Roundup Centre in Calgary, Alberta, Canada, the comic expo is Western Canada's largest cross-media entertainment event! Some of the guests already confirmed are Humberto Ramos, Clayton Crain, Skottie Young, and Gail Simone.
For more information please visit the Calgary Comic Expo's website at: www.calgaryexpo.com
WAR OF THE INDEPENDENTS UPDATE
Jeff Smith's Bone is the latest addition to the all-star cast of what is shaping up to be the biggest independent comic book event of all-time. Inspired by the work of Carl Barks and Walt Kelly, Bone is a humor book about the comic adventures of three lost cartoon cousins from Boneville.
A CLOSER LOOK: PHILLY
In stores this month from Arcana, Philly tells the story of The Trio, a superteam starting off their careers in the City of Brotherly Love. However, the Trio's Brick, Quik, and Firestarter soon find out that in being a superhero it is never a moment's rest in a city where every wannabe hero, powerful villian, and Eagles fan run rampant. The series is written by Ryan McLelland and features art by Jim Hanna, who recently wowed fans with his participation in the Ultimate 100. The Hero Initiative, the first-ever federally chartered non-profit coporation dedicated strictly to helping comic book creators in need, teamed with Marvel Comics to bring together the industry's top talent to create 100 original sketch covers for the release of Ultimate Spider-Man #100. Among the talent selected was Jim Hanna. Arcana is proud to have Jim be part of such an event and look forward to this future star shining even brighter as his career grows.
FREEÂ COMIC BOOK DAY
 

As the name implies, Free Comic Book Day is a single day when participating comic book shops give away comic books absolutely free to anyone who comes into their stores. The event started six years ago and takes place on the first Saturday of May. Arcana once again will be one of the sponsors of the event. This year's offering (Arcana Studios Presents 2007)Â looks to be a hit with a 7 page sneak preview of the soon to be motion picture, Clockwork Girl! In addition, the book will showcase all-new stories from the gothic demon hunter, Kade, and the sci-fi sensation, 100 Girls. Plus, catch a glimpse of some of Arcana's upcoming titles. All of this wrapped inside a flip cover by Stjepan (Kade, Witchblade) Sejic and Todd (100 Girls, Star Wars) Demong.
For more information on this year's Free Comic Book Day and details on creator signings, please check out the official website at: www.freecomicbookday.com
ARCANA COMICS IS COMING!
What's this you ask? Doesn't Arcana already make comics? Yes, but the Arcana Studio as you know it is undergoing a change. Arcana Studio is slightly seperating from Arcana Comics, which will now be it's own free standing company. More information on this development will be coming in the future.
FANS GOING BANZAI FOR BANZAI GIRLS!
Jinky Coronado's smash sensation, Banzai Girls is coming to Arcana and the response from fans has been phenomenal.  The series takes place eight months after the storyline chronicled in the BANZAI GIRL manga trade (available in May Diamond Code: MAR073141), Jinky Coronado and Michelle have become bona fide popstars! Their new CD is out, and they're touring the world. Unfortunately, all is not well at home. A massive, hairy creature known as the Kapre` has been spotted in the woods and kids inciting its wrath are disappearing. Meanwhile, Katie J is all grown up and has plans to take on the hirsute Kapre` by herself. Plus, Jinky Coronado returns to school and has a special secret admirer, and it's NOT the class lech. Is he something more? It's all-out action, fabulous fights, pleated skirts, and everyone's favorite Asian schoolgirl back in action.
THIS MONTH IN PREVIEWS:
In the April edition of Previews, the following Arcana titles have been solicited for a June release.
The Art of Reboot
The Art of ReBoot is the most comprehensive collection of art from the groundbreaking CGI animated series. It features conceptual design illustrations from UK legend, Brendan McCarthy (Judge Dredd, Shade the Changing Man, Solo). Also illustrations from Scott Lee (PITT Crew) and Dean Ormstrom (Lucifer) and many others. The artbook also features a 10 page section of new artwork from leading industry artists. A must-have for any ReBoot and animation fans!
HC, 104 pages, FC $23.99
American Wasteland: Blood & Diesel #3
While driving through an emerging nation of bloodthirsty monsters, truck driver Cletus McCoy learns more about the origin of his young passenger, a boy haunted by recurring nightmares. Plus, more obligatory guns, guts, and gore from creators Hall and Kidwell!
MATURE THEMES, 32 pgs, FC (#3 of 4) $3.95
Koni Waves/Demonslayer One Shot
Koni Waves is back and this time she's brought company, as Marat Mychaels' Demonslayer makes her return to comics. A beautiful young lady visits the island with one thing on her mind… the Dagger of Puea. Legend says this weapon is the source to Puea's power and the key to his and Prince Hopohopo's resurrection. Is this just another local legend used to sell specially priced drinks and souvenir tiki cups or could the God of Darkness really be returning? It's up to Koni and Demonslayer to find out, as they join forces in this epic crossover event. The Koni-verse will never be the same. All this and the first appearance of Marat Mychaels' latest creation, Genesis!
32 pgs, FC $3.95
For a six page preview of the comic visit the Koni Waves forum at: http://www.arcanastudio.com/forum/viewtopic.php?t=4141
Koni Waves Volume 1: First Wave TPB
Meet Koni Kanawai and friends as they take on killer Tiki monsters, surf vampires, alien jewel thieves, and armies of the undead. This collection includes all three issues of the cult mini-series and the rare full length New York Comic Con exclusive story, The Headdress of the Undead! Featuring brand new art work from series artist, Stephen Sistilli and pages from the out of print Koni Waves ashcan from 2001. A must have for any serious kahuna who loved the original series or haole who doesn't want to be left out.
SC, 108 pgs, B&W $9.95
That's all for this month. I'll see you in May!