Sunday, March 4th, 2007
NYCC Wrap-Up 
The New York Comic Con has come and gone and I would say the convention was a huge success for Arcana. The Art of Reboot book did extremely well. It was definitely a big draw as fans would come up to the table and reminisce about the show. American Wasteland, Gearhead, and Koni Waves: The Headdress of the Undead also sold very well.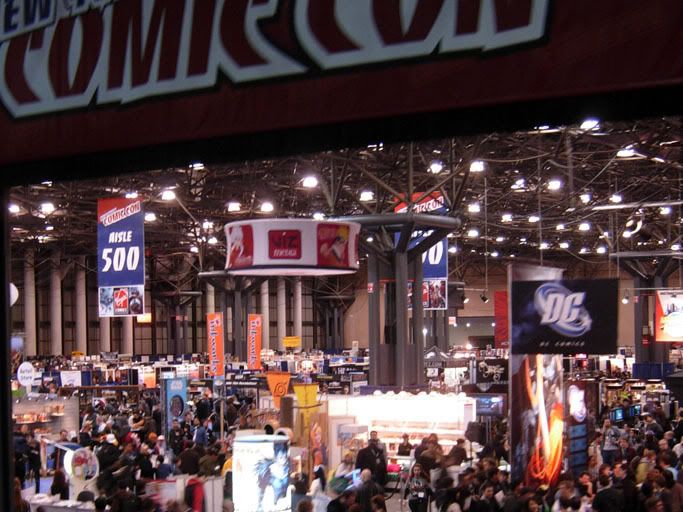 Some news and notes from the convention:
 

There will be a line of Arcana busts going in chronological order. Expect Kade, Ezra, and Slyvia from 100 Girls to be the first released.
Witchblade and Public Enemy have enlisted in the War of the Independents. Marc Silvestri and Chuck D each gave their blessings to see their creations included in this epic mini-series.
Speaking of War of the Independents; there will be a special Pin-Up book featuring characters from the series on sale at the San Diego Comic Con. Each pin-up will feature 2 indy characters teaming up. For example, look for a painted pin-up from Koni Waves artist Stephen Sistilli featuring Koni, Chuck D, and Flavor Flav.
2 new series were previewed at the con: Shadowlaw by Brandon Easton and EVE: Vampire Diva by Frank Laperch and Ash Jackson.
Koni Waves will get an ongoing title after Ghouls Gone Wild! is released. It will be the first Arcana monthly series.
Up Next: Emerald City Comicon 
Now that the NYCC has come and gone, Arcana can focus their attention to the 5th Annual Emerald City Comicon. The event takes place March 31st to April 1st at the Qwest Field Event Center. This is the place to be if you'r into free comics. That's right, I said FREE COMICS. Sean O'Reilly and the rest of the Arcana crew will be giving out massive amounts of free comics. Also, Kade: Sun of Perdition #4 cover artist Mike Grell will be in attendance! Make sure to stop by and let Mike know how much you're looking forward to his Kade cover.
For more information, please visit: www.emeraldcitycomicon.com
Wizard Shows American Wasteland Some Love
 
American Wasteland: Blood and Diesel was featured in the Wizard Edge supplement of Wizard #186. 
"American Wasteland may be one of the best B-movie horror flicks never made. The story by writer R. D. Hall is the cross-country quest of a truck driver named Cletus McCoy who just wants to save his mama from a vampire apocalypse (don't we all?). With just enough heart and plenty of bloody monster bashing on every page of this Arcana Studios series, the creative team gets what good horror is all about, and artist Mark Kidwell nails every bloody scene to the wall with tasty morsels of gore at every available turn."
Congratulations to R.D. Hall and Mark Kidwell!
In Stores Now… GearHead #1
 
Shelby Cooper lives just outside a world of spandex politicians and electric cars – but F**K them and their world. She's a hot chick with a hotrod. She drives fast, talks trash and hurts people with a big-ass wrench. What does any of that have to do with super powers? Well… On a mission to find her brother and in search of the destiny she never knew she had, Shelby's life is about to get interesting. Join her on a 4-issue road trip that leads from the drag strip all the way to the White House. Like her father before her, she is GearHead. Written by Dennis Hopeless with artwork by Kevin Mellon issue #1 is in stores now!
Coming Soon… Banzai Girls #1
Eight months after the storyline chronicled in the BANZAI GIRL manga trade, Jinky Coronado and Michelle have become bona fide popstars! Their new CD is out, and they're touring the world – but all is not well at home. A massive, hairy creature known as the Kapre` has been spotted in the woods… and kids inciting its wrath are disappearing. Katie J is all grown up and has plans to take on the hirsute Kapre` by herself. Plus: Jinky Coronado returns to school and has a special secret admirer, and it's NOT the class lech. Is he…something more? It's all-out action, fabulous fights, pleated skirts, and everyone's favorite Asian schoolgirl back in action. Whoever thought a strict schoolgirl dress code could be this much fun? PLUS: A special sequence plotted by novelist Paul S. Brittain, AND an all-new KATIE'S WORLD strip, all written and illustrated by Jinky Coronado! 32 pgs, FC $3.95 Diamond Code: MAR07 3143 
Kade: Sun of Perdition Set To Wrap Up
With one issue to go Kade and Ezra confront the Beast and it is revealed who he is…a mortal enemy who has been planning for over a 1000 years to destroy the demon hunting duo. He succeeds. The most stunning issue Arcana has ever done to date. This will be the end of an era for Arcana and for the most popular character they've ever printed. If you've never bought an issue from Arcana before, get this one. Featuring 3 covers by Stjepan Sejic, Ashley Wood, and the legendary Mike Grell!
June Is Koni Waves Month!
 
While you won't find it marked on any calendars, June is shaping up to be Koni Waves month as Arcana releases 2 offerings:
Koni Waves: First Wave TPB
Meet Koni Kanawai and friends as they take on killer Tiki monsters, surf vampires, alien jewel thieves, and armies of the undead. This collection includes all three issues of the cult mini-series and the rare full length New York Comic Con exclusive story, The Headdress of the Undead! Featuring brand new art work from series artist, Stephen Sistilli and pages from the out of print Koni Waves ashcan from 2001. A must have for any serious kahuna who loved the original series or haole who doesn't want to be left out.
Koni Waves Demonslayer #1
Koni Waves is back and this time she's brought company, as Marat Mychaels' Demonslayer makes her return to comics. A beautiful young lady visits the island with one thing on her mind… the Dagger of Puea. Legend says this weapon is the source to Puea's power and the key to his and Prince Hopohopo's resurrection. Is this just another local legend used to sell specially priced drinks and souvenir tiki cups or could the God of Darkness really be returning? It's up to Koni and Demonslayer to find out, as they join forces in this epic crossover event. Plus, it's the first Koni Waves adventure in full color!
 
In Store Appearance  
Last month's Shadowflame signing at New Moon Comics had to be rescheduled for this month. The event will take place on March 14 starting at 3pm. Stop by and say hello to Joe Martino and Peter Palmiotti. Mark the date down on your calendars!
New Moon Comics, 33 Wayne Towne Center, Wayne, NJ 07470
Phone: (973) 812-6642